Journal list menu
Pathogen Profiles - Fungi
This virtual issue of Molecular Plant Pathology contains Pathogen Profiles of plant pathogenic fungi. Each review contains a brief summary, which can include pathogen taxonomy, life cycle and host range. Disease symptoms and strategies for disease management may also be presented. Useful websites are often listed here. Each review then goes on to discuss the particular pathogen in detail, presenting the latest research and strategies for future work.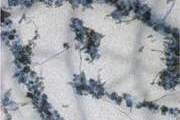 Plant pathogenic fungi cause damage and disease worldwide. They have a major impact on agriculture, requiring the widespread use of fungicides.
Plant pathogenic fungi enter the plant to obtain food, which they are unable to make themselves. Biotrophic fungi colonize living material whilst necrotrophic fungi kill plant cells and harvest nutrients from the dead plant material. Many fungi have complex lifecycles with both sexual and asexual stages, which result in the production of spores. Once released, these tiny spores can disperse easily or reside in the soil for many years, putting subsequent crops at risk.
These Pathogen Profiles set out our understanding of plant pathogenic fungi in a clear and accessible way. They are ideal for research or teaching purposes.

The Fusarium solani species complex: ubiquitous pathogens of agricultural importance
Jeffrey J. Coleman
Wheat stripe (yellow) rust caused by Puccinia striiformis f. sp. tritici
Wanquan Chen Colin Wellings, Xianming Chen, Zhengsheng Kang andTaiguo Liu
Fusarium culmorum: causal agent of foot and root rot and head blight on wheat
Barbara Scherm, Virgilio Balmas, Francesca Spanu, Giovanna Pani, Giovanna Delogu, Matias Pasquali and Quirico Migheli
Hymenoscyphus pseudoalbidus, the causal agent of European ash dieback
Andrin Gross, Ottmar Holdenrieder, Marco Pautasso, Valentin Queloz and Thomas Niklaus Sieber
Rhynchosporium commune: a persistent threat to barley cultivation
Anna Avrova and Wolfgang Knogge
Tobacco leaf spot and root rot caused by Rhizoctonia solani Kühn
Marleny Gonzalez, Merardo Pujol, Jean-Pierre Metraux, Vicente Gonzalez-Garcia, Melvin D. Bolton and Orlando Borrás-Hidalgo

Mycosphaerella fijiensis, the black leaf streak pathogen of banana: progress towards understanding pathogen biology and detection, disease development, and the challenges of control
Alice C. L. Churchill

Mycosphaerella graminicola: from genomics to disease control
Elizabeth S. Orton, Sian Deller and James K. M. Brown

Secrets of the subterranean pathosystem of Armillaria
Kendra Baumgartner, Martin P. A. Coetzee and Dirk Hoffmeister

Grapevine powdery mildew (Erysiphe necator): a fascinating system for the study of the biology, ecology and epidemiology of an obligate biotroph
David M. Gadoury, Lance Cadle-Davidson, Wayne F. Wilcox, Ian B. Dry, Robert C. Seem, and Michael G. Milgroom

Developing tools to unravel the biological secrets of Rosellinia necatrix, an emergent threat to woody crops
Clara Pliego, Carlos López-Herrera, Cayo Ramos Francisco M. Cazorla

Colletotrichum: tales of forcible entry, stealth, transient confinement and breakout
Akinwunmi O. Latunde-Dada
The tomato powdery mildew fungus Oidium neolycopersici
Hannah Jones, John M. Whipps, Sarah Jane Gurr
Mycosphaerella graminicola: latent infection, crop devastation and genomics
Claire-Louise Palmer, Wendy Skinner
Sugar-beet powdery mildew (Erysiphe betae)
Sally Francis
Bipolaris sorokiniana, a cereal pathogen of global concern: cytological and molecular approaches towards better control
Jagdish Kumar, Patrick Schäfer, Ralph Hückelhoven, Gregor Langen, Helmut Baltruschat, Elke Stein, Subramaniam Nagarajan, Karl-Heinz Kogel
Alternaria spp.: from general saprophyte to specific parasite
Bart P. H. J. Thomma
Fusarium oxysporum: exploring the molecular arsenal of a vascular wilt fungus
Antonio Di Pietro, Marta P. Madrid, Zaira Caracuel, Jesús Delgado-Jarana, M. Isabel G. Roncero
Molecular, ecological and evolutionary approaches to understanding Alternaria diseases of citrus
Kazuya Akimitsu, Tobin L. Peever, L. W. Timmer
Ustilago maydis, model system for analysis of the molecular basis of fungal pathogenicity
Christoph W. Basse, Gero Steinberg
Sugarbeet leaf spot disease (Cercospora beticola Sacc.)
John Weiland, Georg Koch
Gaeumannomyces graminis, the take-all fungus and its relatives
Jacqueline Freeman, Elaine Ward
Claviceps purpurea: molecular aspects of a unique pathogenic lifestyle
Paul Tudzynski, Jan Scheffer
Heading for disaster: Fusarium graminearum on cereal crops
Rubella S. Goswami, H. Corby Kistler
Stem rust of small grains and grasses caused by Puccinia graminis
Kurt J. Leonard, Les J. Szabo
The stem canker (blackleg) fungus, Leptosphaeria maculans, enters the genomic era
T. Rouxel, M. H. Balesdent
Genotypic and phenotypic diversity in Colletotrichum acutatum, a cosmopolitan pathogen causing anthracnose on a wide range of hosts
S. Sreenivasaprasad, Pedro Talhinhas
Cladosporium fulvum (syn. Passalora fulva), a highly specialized plant pathogen as a model for functional studies on plant pathogenic Mycosphaerellaceae
Bart P. H. J. Thomma, H. Peter Van Esse, Pedro W. Crous, Pierre J. G. M. De Wit
Conifer root and butt rot caused by Heterobasidion annosum (Fr.) Bref. s.l.
Fred O. Asiegbu, Aleksandra Adomas, Jan Stenlid
Sclerotinia sclerotiorum (Lib.) de Bary: biology and molecular traits of a cosmopolitan pathogen
Melvin D. Bolton, Bart P. H. J. Thomma and Berlin D. Nelson
Physiology and molecular aspects of Verticillium wilt diseases caused by V. dahliae and V. albo-atrum
Emilie F. Fradin, Bart P. H. J. Thomma
Stagonospora nodorum: cause of stagonospora nodorum blotch of wheat
Peter S. Solomon, Rohan G. T. Lowe, Kar-Chun Tan, Ormonde D. C. Waters and Richard P. Oliver
Rust of flax and linseed caused by Melampsora lini
Gregory J. Lawrence, Peter N. Dodds and Jeffrey G. Ellis
Botrytis cinerea: the cause of grey mould disease
Brian Williamson, Bettina Tudzynski, Paul Tudzynski and Jan A. L. van Kan
Aspergillus flavus: the major producer of aflatoxin
Maren A. Klich
Wheat leaf rust caused by Puccinia triticina
Melvin D. Bolton, James A. Kolmer and David F. Garvin
Moniliophthora perniciosa, the causal agent of witches' broom disease of cacao: what's new from this old foe?
Lyndel W. Meinhardt, Johana Rincones, Bryan A. Bailey, M. Catherine Aime, Gareth W. Griffith, Dapeng Zhang and Gonçalo A. G. Pereira
Teratosphaeria nubilosa, a serious leaf disease pathogen of Eucalyptus spp. in native and introduced areas
Gavin C. Hunter, Pedro W. Crous, Angus J. Carnegie and Michael J. Wingfield
The powdery mildew fungus Podosphaera fusca (synonym Podosphaera xanthii), a constant threat to cucurbits
Alejandro Pérez-García, Diego Romero, Dolores Fernández-Ortuño, Francisco López-Ruiz, Antonio De Vicente and Juan A. Torés
Pathogen profile update: Fusarium oxysporum
Caroline B. Michielse and Martijn Rep
Phakopsora pachyrhizi, the causal agent of Asian soybean rust
Katharina Goellner, Marco Loehrer, Caspar Langenbach, Uwe Conrath ,Eckhard Koch and Ulrich Schaffrath
Phymatotrichum (cotton) root rot caused by Phymatotrichopsis omnivora: retrospects and prospects
Srinivasa Rao Uppalapati, Carolyn A. Young, Stephen M. Marek and Kirankumar S. Mysore
Lecanicillium fungicola: causal agent of dry bubble disease in white-button mushroom
Roeland L. Berendsen, Johan J. P. Baars, Stefanie I. C. Kalkhove, Luis G. Lugones, Han A. B. Wösten and Peter A. H. M. Bakker
Pyrenophora teres: profile of an increasingly damaging barley pathogen
Zhaohui Liu, Simon R. Ellwood, Richard P. Oliver and Timothy L. Friesen
Venturia inaequalis: the causal agent of apple scab
Joanna K. Bowen, Carl H. Mesarich, Vincent G. M. Bus, Robert M. Beresford, Kim M. Plummer and Matthew D. Templeton
Elsinoë fawcettii and Elsinoë australis: the fungal pathogens causing citrus scab
Kuang-Ren Chung